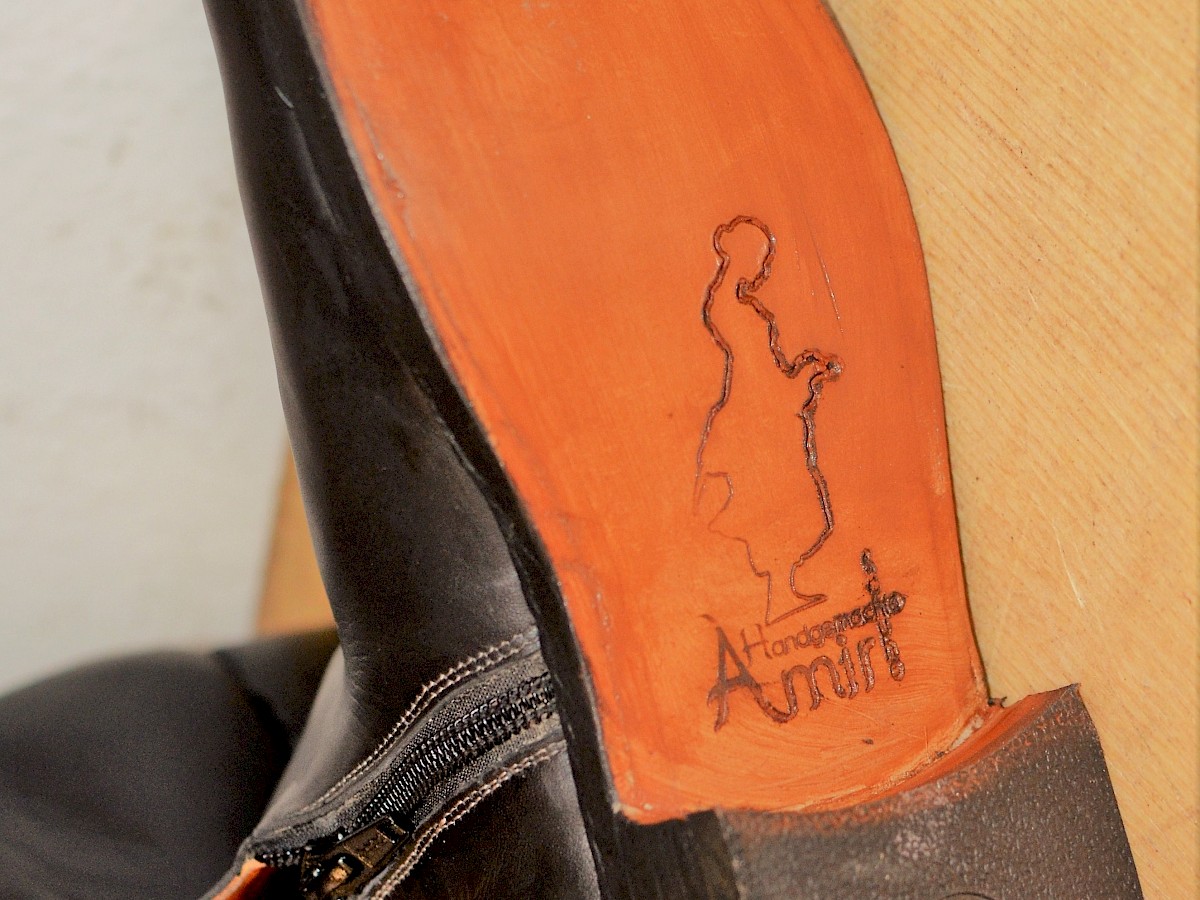 From Zarzis to Göttingen and back
The shoemaker began his training in 1991 in the town of Zarzis in Tunisia, near the island of Djerba. For two years he offered repairs in a small shop he owned there before he decided to go to Germany. After various jobs, i. a. as an orthopedic shoemaker, and more extended stays in Spain and Italy, he decided to start his own business and settle in Göttingen.
It smells like leather and machine oil. The shop is artfully and uniquely furnished, primarily with natural wood. The shoemaker's shop 'Amir' has become an integral part of Theaterstraße in downtown Göttingen. Faical Souei can be found outside his shop occasionally, even after closing time.
However, beginnings are known to be difficult. Despite the resentment of numerous bank employees who refused to provide him with a loan, Souei managed to set up his own business with the help of his perseverance and a start-up consultation. He opened the shop and gradually turned it into the work of art it is today.
When asked what advice he would give to people who have come, for example, to Germany as refugees, and want to start their own business, he recommends: "The most important thing is to learn the language, nothing works without B1 level. You will need it just in order to familiarize yourself with German bureaucracy. Above all, you have to be aware of your abilities, i.e., know what you are good at. And then, you need to draw up a solid, innovative business plan and find a good place to execute it. You have to implement an idea of your own, not something that has already been done five times."
Faical Souei has definitely succeeded in doing this, because on the one hand, he offers high quality and imaginative products, and on the other hand, there is continuity in his work. The machines and tools are basically the same as the equipment with which the shoemaker began his work in Zarzis. "These machines are truly unbreakable; that is really good quality," he says about the Adler­-branded cast-iron sewing machine. This piece, with which he has been sewing shoes for years now, is a real trophy often commented on by visitors.
However, there are no tools from Tunisia in the shoemaker's workshop. Only a hand-forged iron shoehorn Souei brought back from a holiday. A bellows often read as a typical Arab decoration, is, in reality, the souvenir of a German friend
Even though repairs are his main source of income, the actual work of Faical Souei is to manufacture shoes. Each shoe is unique with its own design and history. In the elaborately designed shop window you will find numerous models: From ankle boots to suede shoes and slippers to noble patent-leather shoes, everything is handmade here, according to the customer's wishes. One pair of shoes which Faical Souei is particularly proud of was made of brown-white checkered leather that he himself had woven.
It usually takes about three weeks for a pair of shoes to be finished and on the counter. Cost: 450 Euro. Considering it is handmade, it's a very good price, the craftsman emphasizes. His clientele comes from very different backgrounds but consists mainly of women, who often shop for their male partners as well.
Faical Souei remains in motion, even if he has settled down. He continues to develop his business and his goods with great dedication. But he also has other ideas.
At the moment, he is planning a project in cooperation with the Migration Centre Göttingen to give rejected asylum seekers from Tunisia a chance to establish an economic existence in their country. As part of this project, he wants to train young people as shoemakers.
But Souei says that he is still not quite sure whether he will be able to manage in Tunisia, after decades as a shoemaker and independent entrepreneur in Germany.
Friedemann Yi-Neumann