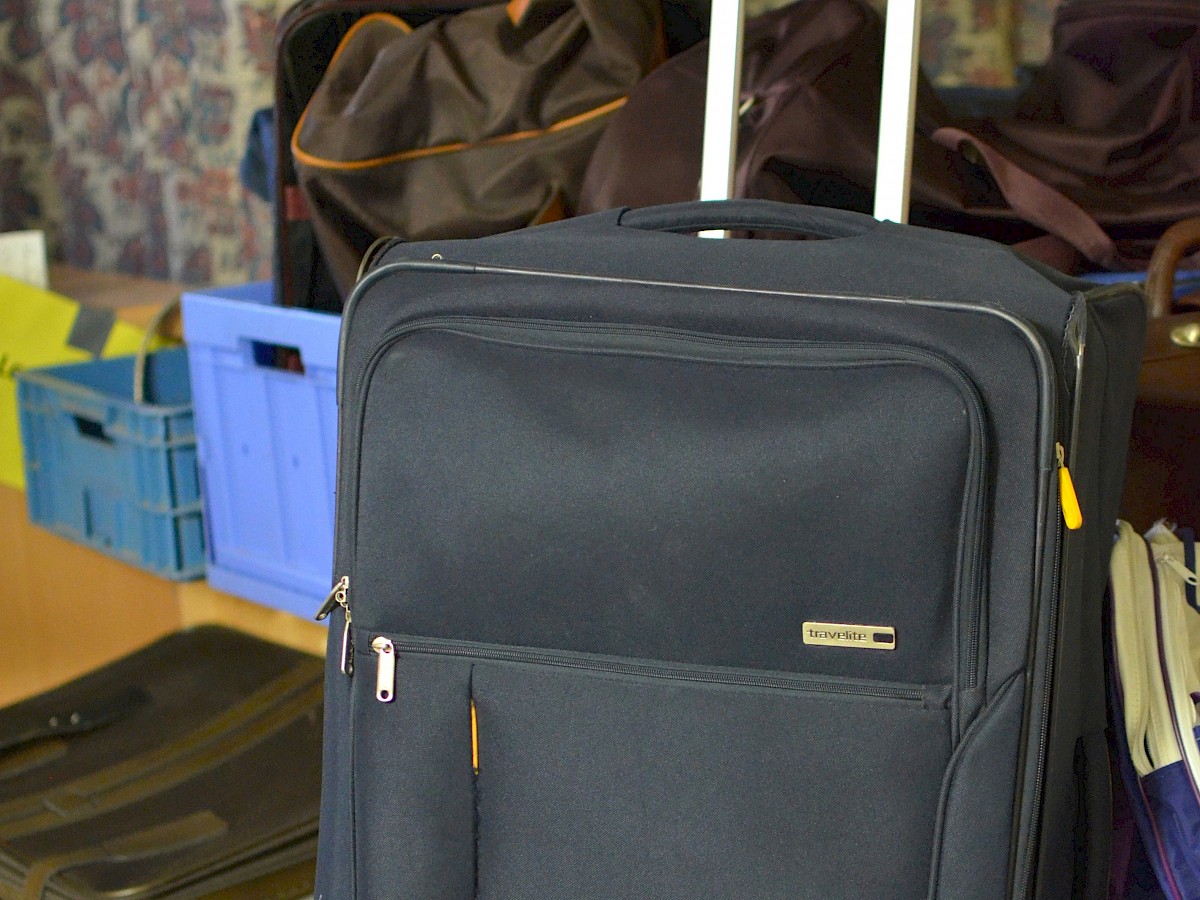 The Trolley – An Object in Transit
A trolley donated to the Caritas. Four wheels, a hole in the side of the nylon fabric, a torn-off handle. A suitcase, well used, frequently packed and unpacked, visibly battered and now without value for its previous owner, but well looked after by the volunteers of the Caritas and desirable for many of the refugees. Here the trolley found new owners: A refugee with her husband and their four children. What meaning does this trolley bear for this family in transit, which, after two weeks at Friedland Transit Camp, is making its way to their new place of residence?
Usually, refugees coming into the Caritas clothing store will first notice the suitcases in the front room, mostly older models without castors. While these older models, large and small, in all colors, made of fabric or imitation leather with a carrying handle, stand in the front room, the backroom holds newer models of trolleys. These are reserved for families with many children, single mothers carrying babies or toddlers, as well as for seniors.
The purpose of suitcases is to aid in the containment and transport of clothes and other important things of their owners, objects in transit, only in use for a brief moment. No other objects in the charity closet have the ability to spark so many emotions. Visible interest comes up at first sight among the asylum seekers, but sometimes disappointment follows a closer inspection: Scratches, signs of use, busted seams. This is not the case with this battered suitcase: As I bring it forward from the back room, the woman is beaming at me; she seems glad, relieved, happy. She rushes towards me, hugging me while kissing me on the cheek! I made this woman and her husband, whom I spot as she releases me, very happy with this old trolley.
For me, a number of questions remain unanswered: What is behind the extraordinary attention these objects receive from the refugees? What should a suitcase look like, in order to be suitable for the first journey in Germany and a new beginning? Is the size a defining factor? How it handles? How old it is? The factor of how modern or old-fashioned it is? Or is it simply the circumstance, that I brought this trolley from the backroom to offer to the family? Is this the crucial gesture here, which conveys understanding and esteem?
The volunteers of the charity closet also pay special attention to the donated luggage. This is visible through the storage in two different places: Which moment decides whether a suitcase will be left in storage or be brought to the front? Is it a matter of the people inquiring being Families with many children, solo-traveling women, or elderly people? Is the interaction of importance, the manner in which things are addressed, or is it simply a matter of happening upon a good moment, that can decide the process?
Ute Marie Metje