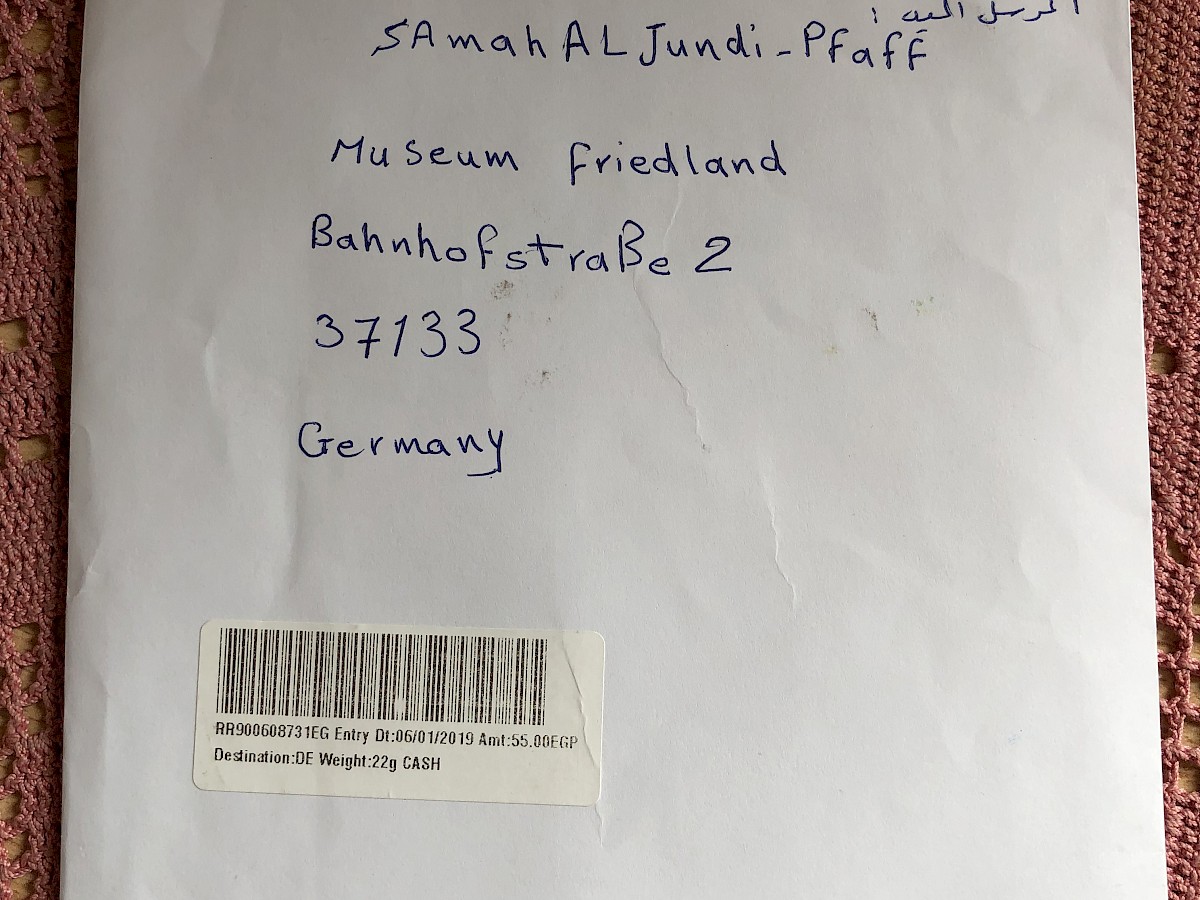 False Hopes
The white envelope, which remained unopenend on my desk in the office for more than a week, and which contained two people's letters and two stories, became one of my great regrets! It was Christmas and New Year junk mail time, so I had given no interest to the letter which later deeply touched me.
I am working at the museum as part of the team for museum education and I used to understand/describe myself as a bridge which links the Friedland Transit Camp (FTC) to the Museum Friedland and gives people staying in the FTC the chance to express their hopes, thoughts and memories by painting. After a long eventful day of work in January, I crashed on the comfortable seat of a Cantus train, dreaming of a hot lentil soup with some drops of lemon for a late dinner. Out of habit, I dragged my journal to paint some words, but the junk mail was in it. I have no explanation how they jumped into my handbag, but I still remember the bitter salty tears that fell as I was reading the papers which were in the big white envelope.
There are two stories and my soul is torn between them: Should I start with the delicate childish letters of Selen, the tender nine-year-old girl who is talking to her imaginary mother and lives alone with her father? She was born in 2010, on the first day of January – like all the Syrian children! In Syria it is a norm that parents register their newborn children at the very beginning of the new year. Or should I talk about Esam, the father who had spent a great part of his life longing for a child and, when he could reunite with Selen, had to hold on to her dearly to start their life in the diaspora - without her mother.
Thinking back to the white envelope, the Arabic letters and the elegant black penmanship seduce the reader staring at the papers and fashion the image of the writer putting his thoughts into words. "I am Mohamad Esam Madah Edelbi, the son of Ahmad Moneer & Mazyan Attar. I was born in 1968, in Aleppo, Syria…." Those who live or lived in Syria can feel the long years of fear and oppression and be shocked like me.
I never thought that Let's Make It (LMI) would travel virtually and inspire people who live miles away from Museum Friedland... Since July 2016, I am conducting the four activities of LMI to let the residents of Friedland Transit Camp visit the museum collection.
Esam's first marriage was a mixture of longing for a child and many expensive trips to hospitals. The anguish of waiting for hours in front of hospitals' operating rooms and many attempts to have a IVF child led to a complicated divorce. The second marriage brought Selen to life but the mother could not raise her among five other step siblings from a previous marriage. The second divorce made Esam childless again. The family mediation failed until Selen was 6 months old: Shortly before the next marriage of Selen's biological mother, she was delivered to the father while he was at his shop. The first wife of Esam acted as the step mother of Selen when the family fled to Egypt, but on 20 December 2017, they were divorced once again.
After reading the letter, I directly contacted Selen and her father to learn more about their life, to understand their expectations and hopes and why they had contacted Let's Make It. The virtual talk and the paintings of Esam and Selen explained why this letter was mailed to Museum Friedland and cleared a misunderstanding - LMI is not a UN initiative but a space where stories of Arrivals are born! Esam's eagerness to offer Selen the medical and psychological treatment due to war trauma ignited the false hopes. "Who knows, maybe one day, our paintings will be exhibited in Museum Friedland", Esam said.
Samah Al Jundi-Pfaff