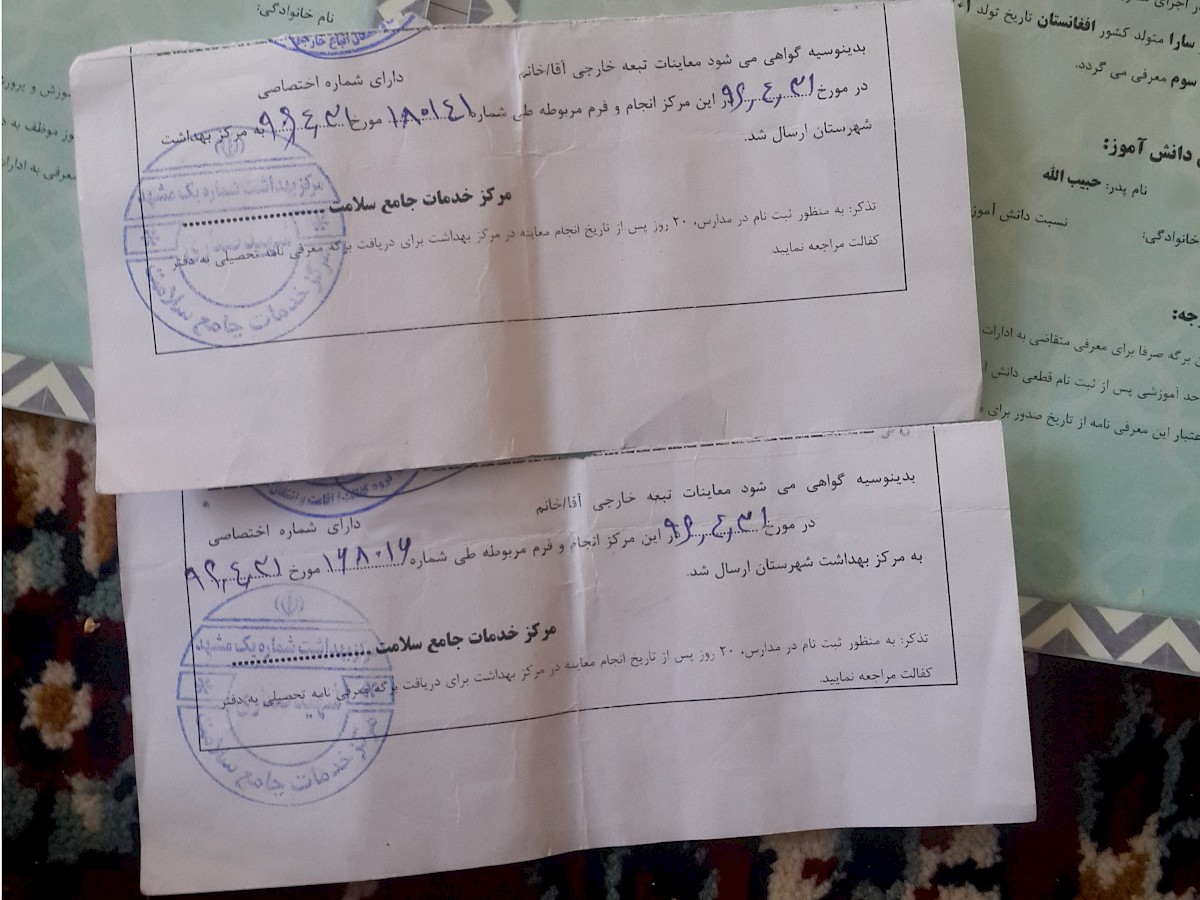 The Documents of the Undocumented
Omid is a six-and-a-half-year-old undocumented Afghan child. He and his two brothers live with their grandmother. Their father is in prison and their mother is not home very often as she also works outside of their residence. The grandmother works, picking tomatoes on a farm in the suburbs of Mashhad city in Iran. She brought Omid to school to enroll him in the three-month non-formal education programme1. After the programme she was willing to enroll Omid at the first grade in formal school, but it was not possible as they had no documents.
In Iran, children of undocumented parents have to be registered as such at a government centre named "Kafalat Centre", then they will receive a letter for school enrolment for which they have to pay a fee. At least, with this policy the Iranian state provides a system which gives a chance to the undocumented children to get some education and have a perspective and make something out of their life.
Accompanied by a volunteer, I went to visit the family. We were going to provide the grandmother with cash assistance to pay for the Kafalat centre. But it was not the only problem: The centre had asked for the parents to appear in person and sign. The other day, the grandmother took Omid's mother with her to the government centre. Having the marriage document of her son and her daughter-in-law in hand did not work. The signature must come from a father and not a mother. As due to the Islamic law, the mother does not count and is not considered eligible to sign. They explained that the father is in prison and was not able to attend, but the centre still refused to give them the papers. The grandmother went to prison to discuss this with the prison officials to let her son out for a day in order to do this paper work but her efforts were in vain.
Iranian state attempts to provide children of the undocumented with the papers to go to school but yet there are multiple obstacles that thwart the procurement of these papers: The Bureau of Foreign Immigrants Affairs in Iran provides the right to education for undocumented children while on the other hand, in combination with the patriarchal Islamic law, the system still deprives some of these children of their school education and their future.
When I gave them the cash assistance card, the grandmother refused to accept saying that the only thing she wanted was to put her grandson in school. She begged in despair to do something to send Omid to school. But without his father's signature, and thus without the papers, he could not. How many hopes, feelings and emotions were connected to this piece of paper! It seemed like the future of a child or maybe a lifetime depended on it.
Malihé Bayat Tork